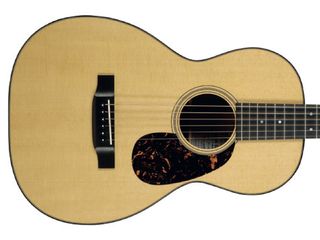 O
1854, you say? This Martin designation is at the top end (size-wise) of what you might call a parlour guitar, though there's no set standard for that term. It usually has a 12-fret-to-body design and produces a focused tone with plenty of mid-range punch.
BODY LENGTH: 19 1/8 (inches)
MAX DEPTH: 4 1/16
MAX WIDTH: 13 1/2
FAMOUS USERS: Ian Anderson, Joan Baez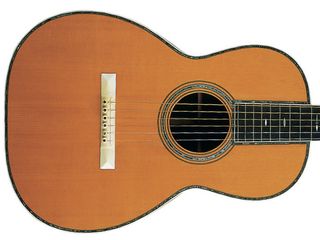 00
Slightly bigger than Size 0, the 00 (grand concert) came along in 1877 and remains in production to this day. The 1934 14-fret variant has a thinner waist and looks more like a smaller 000. Expect prominent yet sweet mids from a quality example.
BODY LENGTH: 19 5/8 (12-fret)
MAX DEPTH: 4 1/16
MAX WIDTH: 14 5/16
FAMOUS USERS: Elizabeth Cotton (14), Steve Howe (14), John Mayer (12)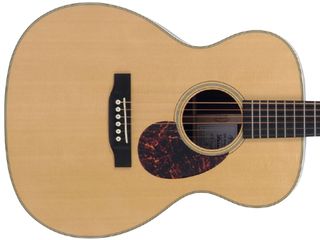 000/OM
Martin set the standard for 'folk' size too. These days, the 000 (auditorium) has a 24.9-inch scale length, while the OM (Orchestra Model) has 25.4. The Martin 000-28 built for banjoist Perry Bechtel in 1929 was the first ever 14-fret flat-top acoustic.
BODY LENGTH: 19 3/18 (14-fret)
MAX DEPTH: 4 1/8
MAX WIDTH: 15
FAMOUS USERS: Woodie Guthrie, Lonnie Donegan, Eric Clapton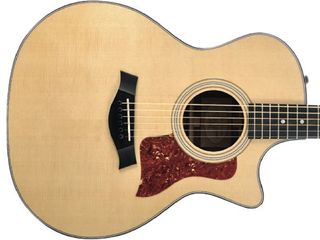 Grand Auditorium
This term is used today by Taylor to describe its Style 14 body, designed by Bob Taylor in 1994. It's wider than a Martin dreadnought across the lower bout, almost as deep, but with a more pinched waist and forward bout. Almost always a CE (cutaway electro).
BODY LENGTH: 20
MAX DEPTH: 4 5/8
MAX WIDTH: 16
FAMOUS USERS: Taylor Swift, Mike Keneally, Simon Neil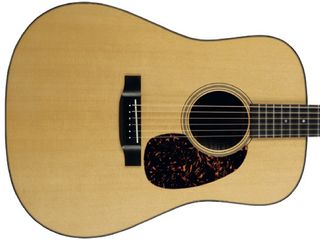 Dreadnought
The daddy: introduced by Martin initially with more rounded shoulders and 12 frets to the body, it changed to the form we know now in 1934. It's become synonymous with the very term 'acoustic guitar' and you'll hear these in pretty much every kind of music since the thirties, from early bluegrass to the most modern pop. Sound great as 12-fretters, too.
BODY LENGTH: 20 (14-fret)
MAX DEPTH: 4 7/8
MAX WIDTH: 15 5/8
FAMOUS USERS: Elvis, Johnny Cash, Hank Williams, Clarence White, Paul McCartney, er, pretty much everybody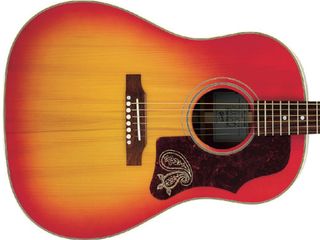 Round-shoulder dreadnought
Typified by the Gibson J-45 and J-50, this shape is descended from Gibson Jumbos of the 1930s (though don't confuse them with the Super Jumbos, right). The dimensions – although varied slightly over the years – put them in dreadnought territory. J-45s/50s/Southern Jumbos have a 24.75-inch scale; the original Advanced Jumbos were 25.5.
BODY LENGTH: 20
MAX DEPTH: 4 7/8
MAX WIDTH: 16
FAMOUS USERS: James Taylor, Elvis Costello, Bruce Springsteen, The Beatles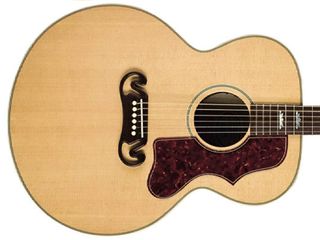 Super Jumbo
Originally prefixed with 'Super', the world now uses the term 'Jumbo' to describe something akin to Gibson's (S) J-200, originally of 1937. A huge body makes for deep bass and plenty of sparkling trebles; whether rosewood or maple bodied, it's a massive sounding rhythm guitar. Dimensions have varied over the years – below is how they're made currently. The J-185 is a 'mini jumbo' – 16 inches across.
BODY LENGTH: 21
MAX DEPTH: 4 3/4
MAX WIDTH: 17
FAMOUS USERS: Elvis, The Edge, Bob Dylan, Noel Gallagher, Pete Townshend
The Summer 2012 issue of Guitarist magazine, on sale now, contains a huge 27-page feature packed with advice, information and techniques all geared towards making you a better - and better sounding - acoustic guitar player.