Guitars Ate Bumblefoot's Brain...
Guns N' Roses
axer-in-chief Ron 'Bumblefoot' Thal has finished work on a mind-bending new collaborative and instrumental project called
Guitars That Ate My Brain
.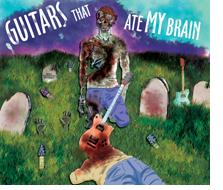 The CD features a dozen instrumentals from today's most accomplished metal axe grinders, including members of Between The Buried And Me, Korn, Strapping Young Lad, Megadeth, Darkest Hour and Soilwork.
It's a 12-headed hydra of monster guitar riffage that slashes, shreds and gnaws its way into your very psyche!


Despite the shifting tempos and uniquely frightening technical prowess of these speed demons, a strange cohesion connects the tracks on this mammoth compilation.


Check out more info HERE...