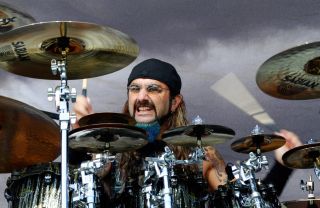 © Scott D. Smith/Retna ./Retna Ltd./Corbis
Not content with filling his time with a punishing schedule of projects in the studio, Mike Portnoy is venturing over to Europe next month for a meet and greet tour.

You can come face to face with the drum icon at the following dates.
April 10 - Adams Drumworld - CC Het Loo, Tessenderlo
April 11 - Ottava - Rome 

April 12 - Cherubini - Rome 

April 13 - Musik Produktiv Schweiz, Niederlenz 

April 14 - Thomann - Burgebrach 

April 15 - Session Music - Frankfurt
Our fingers remain firmly crossed for a UK stop-off.