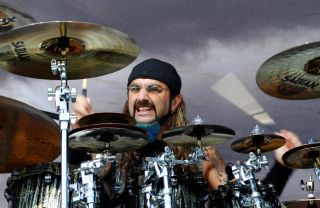 © Scott D. Smith/Retna ./Retna Ltd./Corbis
Mike Portnoy's Adrenaline Mob will release their debut EP next week.
The band, which also features Rich Ward (Stuck Mojo/Fozzy), Russell Allen (Symphony X), Mike Orlando and Paul DiLeo, will release the five-track disc digitally on 9 August.
The self-titled EP will feature a cover of Black Sabbath's 'Mob Rules' as well as original tracks 'Psychosane', 'Believe Me', 'Hit The Wall' and 'Dance To The Floor'.
A full album is expected early next year.