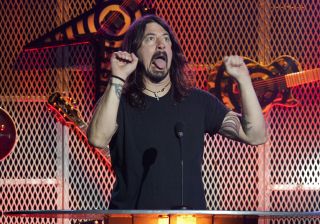 © Paul Hebert / Icon SMI ./Retna Ltd./Corbis
Dave Grohl has been honoured by his hometown - with the unveiling of two huge drum sticks.
Warren, Ohio has unveiled two 900 pound sticks to acknowledge the Foos mainman's illustrious career at the kit.
The sticks will be displayed at the Warren Amphitheatre until September, where they will be moved to Dave Grohl Alley, the street that was named after Grohl in 2009.