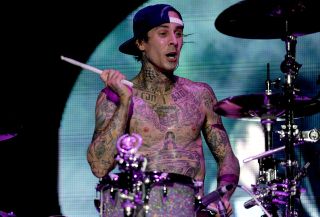 ©Tim Mosenfelder/Corbis
Travis Barker seems to be a man that likes to keep himself busy.
His 2010 schedule includes working on a solo album, touring with Blink-182 and getting back into the saddle with The Transplants.
Well now it seems he's also giving drum lessons to the stars.
Check out the video below in which he gives pop superstar Rihanna a few pointers.
Travis also recently tried his hand at classic rock, performing 'Stairway To Heaven' with Mary J Blige on American Idol, which you can see below.