VIDEO: Onstage nightmares interview with Opeth
What's the worst thing that's ever happened to them onstage?
YouTube : https://www.youtube.com/watch?v=KrpDNxXo9_o&list=UU5EDpsUum4DTo5IHB-1kUtw
Total Guitar collars Opeth's Mikael Åkerfeldt and Fredrik Åkesson backstage to tell the stories behind their worst ever onstage mishaps.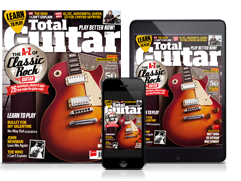 Stay up to date with the latest gear and tuition.
Subscribe and save today.