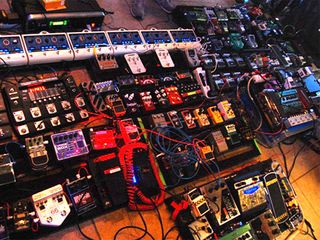 Before last year's Summer NAMM, we caught up with guitarist, blogger and one half of the brains behind the world's largest pedalboard, Jaux King. Then, what started out as "a goofy plan" turned into a 142-strong fully-functioning pedal carpet.
At Summer NAMM 2009, however, Jaux and partner in crime Aljon Go broke their own Guinness World Record with 147 working units. Everything from distortion pedals, delays and wah wahs.
Check out Gibson's blog for a full event report. More from Jaux and Aljon at Geartrap and Tonefreq respectively.