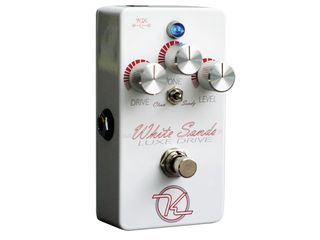 Keeley White Sands Luxe Drive
Getting the right balance of presence, cut and just enough rounding off is where the magic lives in low-gain drives/boosts.
This is Robert Keeley's walk down that path, with two modes of asymmetrical clip on the end of a JFET input buffer. Keeley says it sits between the company's Katana Boost and Red Dirt pedals, so we're talking rock 'n' roll, lighter blues, country, Americana... even jazz!
BUY: Keeley White Sands Luxe Drive currently available from:
UK: Andertons Music | Thomann
US: Sweetwater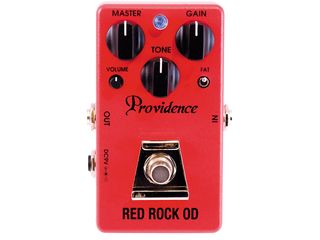 Providence Red Rock OD
Tailored for single coils, we think it sounds good with 'buckers, too. Clarity and dynamics are Providence staples, delivered here across clean boost to mid-gained rock.
It has an input gain control in addition to the regular pots, enabling you to dial in the kind of dynamics you like under your fingers. It's clearer sounding and less compressed than a Tube Screamer, with more gain than the White Sands.
4 out of 5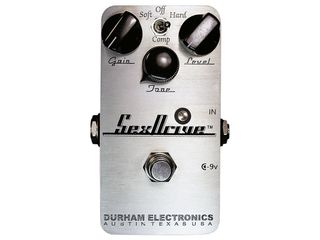 Durham Electronics Sex Drive Compact
This was designed for Charlie Sexton, who gets to play guitar for legends including Bob Dylan and David Bowie, among many others.
He wanted a clean boost with some added bottom end that would push amps into drive, but not alter their basic tone, and this is the result. Use it at the end for a boost; nearer the beginning to drive existing pedals even harder.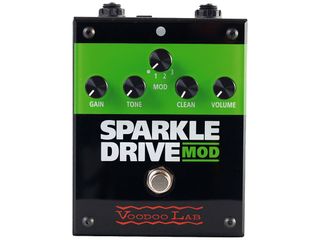 Voodoo Lab Sparkle Drive Mod
This is basically an Ibanez TS808 Tube Screamer circuit, with the addition of a clean signal section that you can mix in to taste, to add definition to what can be an otherwise relatively dark and compressed tone.
It's different from the regular Sparkle Drive with the addition of the Mod switch, giving you three additional EQ/gain responses to suit different sounds and styles.
BUY: Voodoo Lab Sparkle Drive Mod currently available from:
UK: Andertons Music | Thomann
US: Sweetwater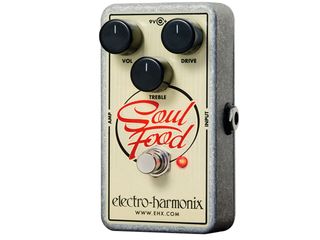 Electro-Harmonix Soul Food
Much has been made of this Electro-Harmonix pedal's similarity to the much-appreciated Klon Centaur.
The Soul Food doesn't sound, feel or react exactly like a Centaur, but for the measly asking price it has a more than fair attempt at that particular kind of mid-rich drive, with edge and clarity aplenty.
One key advantage is that it has boosted internal voltage, and that really helps with delivering such a big, open sound.
4.5 out of 5
Read our full Electro-Harmonix Soul Food review
BUY: Electro-Harmonix Soul Food currently available from:
UK: Thomann | Gear4Music | DV247
US: Sweetwater | Full Compass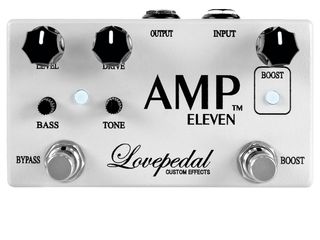 Lovepedal Amp Eleven
This pairs an overdrive circuit with an additional boost section for classic rocky/bluesy tones with both depth and clarity.
It can sound more 'amp like' than many OD pedals, with plenty of headroom and dynamics, especially when running at 18 volts. The boost is based on Lovepedal's Church Of Tone 50 pedal, fattening things off with a huge kick in level to boot.
BUY: Lovepedal Amp Eleven currently available from:
UK: Andertons Music | DV247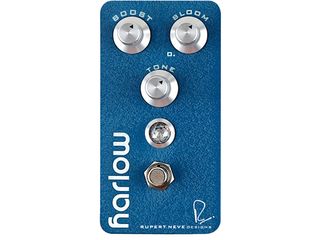 Bogner Harlow Boost
Alongside Bogner's stellar reputation for tone, the big news in this range of pedals is the Rupert Neve-designed audio transformer.
We've only played prototypes thus far, but the Harlow is unusual in the boost world, as it also provides a variable compression function (Bloom), offering an extra dimension to the feel and response. The Wessex Overdrive is worth a look, too.
BUY: Bogner Harlow Boost currently available from:
UK: Andertons Music | Thomann
US: Sweetwater | Full Compass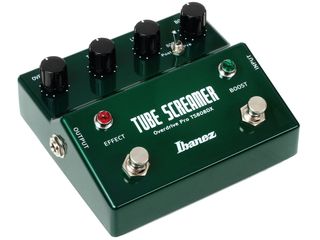 Ibanez TS808DX Dual Tube Screamer
The pedal that inspired a thousand others is augmented with an additional, independent 26dB gain boost section that - usefully - can be placed before or after the 808 overdrive, or indeed used on its own.
True bypass, it also features the much loved JRC4558D op-amp for the classic 808 sound, and is also able to run at nine or 18 volts, the latter for higher headroom feel.
BUY: Ibanez TS808DX Dual Tube Screamer currently available from:
UK: Andertons Music | Thomann | Gear4Music | DV247
US: Sweetwater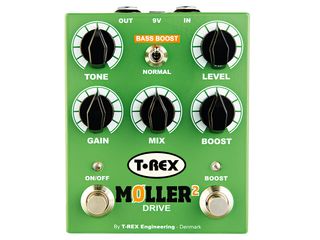 T-Rex Mller 2
Named after Danish guitarist Knud Møller, this is now in '2' form, featuring a versatile overdrive section coupled with a 20dB boost, similar to the TS808DX.
There's more EQ variation than with a Tube Screamer, and like the Voodoo Lab Sparkle Drive this also has the ability to mix clean and distorted signals. The Alberta II is well worth a look, too, if you want a less 'green' (TS) sound.
4.5 out of 5
Read our full T-Rex Møller 2 review
BUY: T-Rex Møller 2 currently available from:
UK: Andertons Music | Thomann
US: Full Compass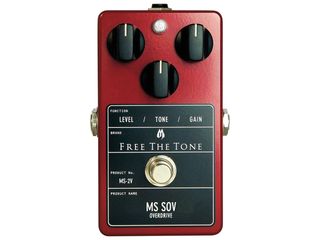 Free The Tone MS-2V
The signature pedal of Brit blues guitarist Matt Schofield, this latest in the lineage of SOV-2 designs features an upscaled internal power circuit for high headroom/low compression.
It's also the first SOV to feature Free The Tone's HTS buffer/bypass circuit, that Schofield prefers to the original true-bypass design. You can expect full, mid-rich, yet clear drive that perfectly suits Schofield's highly dynamic and touch-sensitive playing style.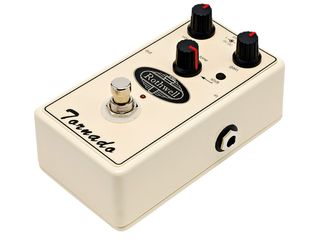 Rothwell Tornado
Using JFET (Junction Field Effect Transistors) throughout, Rothwell's Tornado is a single-ended Class A overdrive aimed at players who prefer their drive tones to feel and sound more like a valve amp and less like a pedal.
With the gain dialled down, the Tornado also works well as a clean boost, while the pedal's shift button - selecting between a dark, vintage tonality and a brighter, mid-scooped tone - is a handy tone sculptor.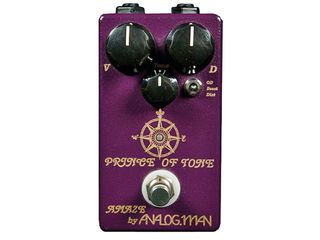 The Unobtainables
We're grouping three pedals together: the Paul Cochrane Timmy, Klon KTR and Analogman Prince Of Tone (above).
They all do variations on the same thing: transparent, extremely musical sounding drive, and all have cult followings for good reason.
They're built in limited numbers, which when matched with high demand, means they're hard to find. Hyped, magic, annoying, clever... just join the queue.