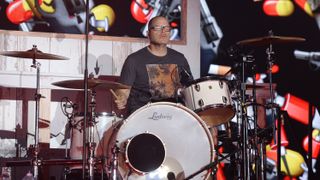 Pat Wilson (Weezer)
The Rhythm Best in drums 2016 polls have received over 136,000 votes, and we're now ready to roll out the winners. The nominees were what we considered to be the drummers and gear that have excelled in 2016. Here, we present the best international rock drummers of 2016. First up we have Weezer's Pat Wilson…
2016 highlight: It has to be the band's 2016 album release Weezer (The White Album). Not only does the album hark back to Weezer's celebrated earlier material, but it's also a fine show from Wilson behind the kit. King Of The World is an uplifting slice of pop rock and Thank God For Girls featured a nifty hip-hop beat from the Californian drummer.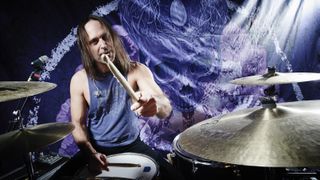 Sebastian Thomson (Baroness)
2016 highlight: Although Sebastian Thomson joined the Georgian prog rock band in less than ideal circumstances (following a devastating tour bus crash in 2012 that resulted in the departure of drummer Allen Bickle), his performance on latest album Purple breathed new life into the recovering band, and the snare and tom motif that opens Shock Me is a great introduction to the new guy.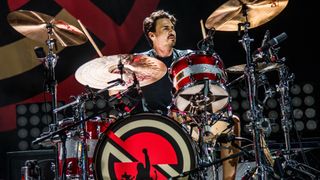 Brad Wilk (Prophets Of Rage)
2016 highlight: We've always loved the playing of Rage Against The Machine groover Brad Wilk, but there's something about the passion with which he's tackling those classic Zeppelin-meets-drum machine Rage beats in Prophets Of Rage (the politically-charged supergroup featuring Brad, Tom Morello, Timmy C, and Public Enemy's Chuck D and Cypress Hill's B Real), that has got us excited all over again. In one of the most politically divided years the world has ever seen, we all need a band like Prophets Of Rage.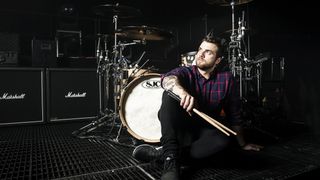 Rian Dawson (All Time Low)
2016 highlight: All Time Low have practically been adopted by the UK. Not only did their last album Future Hearts hit number one in the UK charts in 2015, but this year the band played their first ever headline show at London's O2 Arena. Drummer Rian Dawson was naturally chuffed at the prospect, and the band played an absolute stormer.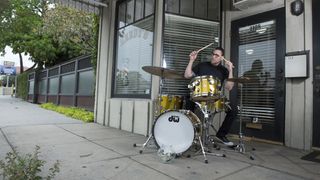 Gil Sharone (Marilyn Manson)
2016 highlight: Gil is such a diverse drummer that he can turn his hand to practically any gig, which he's proven on the road this year with shock rocker Marilyn Manson. As well as the chops to nail every corner of Manson's vast back catalogue on stage, rumour has it he's working with Manson on a new album for 2017 too.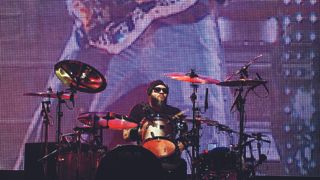 Frank Ferrer (Guns N' Roses)
2016 highlight: What bigger highlight can there be for Guns N' Roses' Frank Ferrer than being the drummer behind the reunited Axl Rose, Slash and Duff McKagan at their first gig together in over 20 years at LA's Troubadour? At the subsequent US tour dates and beyond it's safe to say that Ferrer has been taking this monster gig in his stride.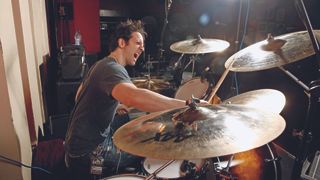 Glen Sobel (Alice Cooper)
2016 highlight: Glen continued to rock hard behind the kit this year, not only with Alice Cooper, but also with Richie Sambora and Orianthi. What's more, at the tail end of October 2015 he filled in for Tommy Lee during Mötley Crüe's final year, learning the setlist in a matter of hours. What a pro.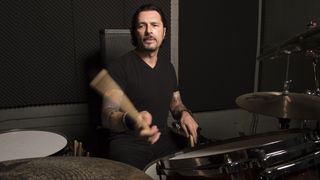 John Tempesta (The Cult)
2016 highlight: Unbelievably it's now been over 10 years since John joined The Cult. This year marked the release of the band's tenth album, Hidden City, and John's third behind the kit. Tracks like opener Dark Energy show just how much John drives the band with that signature stomp.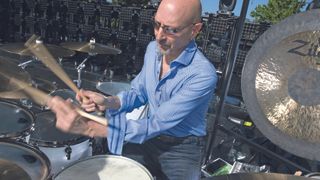 Steve Smith (Journey)
2016 highlight: Who'd have thought that in 2016 jazz drumming sensation Steve Smith would reunite with Journey, the rock band he first joined in 1978? The planets aligned, the unthinkable happened, and Steve got his big kit out of storage to rock the crowds throughout the year. We never stopped believin', Steve.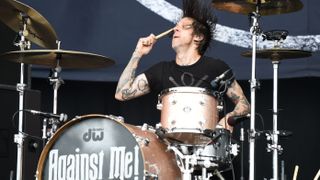 Atom Willard (Against Me)
2016 highlight: Atom has proven his worth time and again with bands past and present, including his current gig with punk rockers Against Me, but our highlight of the year was his thunderous drum cover of Santigold's Creator. It needs to be seen to be believed. You can watch it below…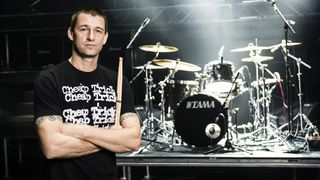 Dean Butterworth (Good Charlotte)
2016 highlight: Good Charlotte made a triumphant comeback in late 2015 and this year has been all about the release of new album Youth Authority and extensive touring. The band look like they've never had more fun on the road, and Dean has been doing his thing and holding it down in style at the back.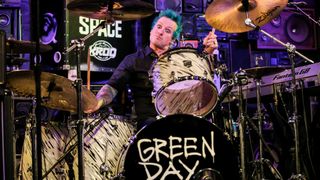 Tre Cool (Green Day)
2016 highlight: While his style has barely changed in decades, Tre is such a character behind the kit it's difficult not to pay attention. This year's Revolution Radio album demonstrated that Tre has lost none of his single stroke speed and his boundless, grin-inducing energy propels the album along.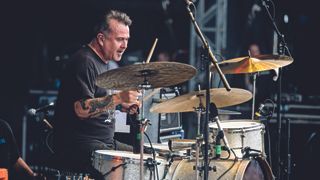 Jean Paul Gaster (Clutch)
2016 highlight: If 2015's Psychic Warfare album wasn't enough to make you stop and take note, Clutch have become an even tighter live band in 2016 (as if they weren't already tight enough). Each member brings their own thing to the table, but for us it's drummer JP Gaster and his instinctive groove that makes the band what it is.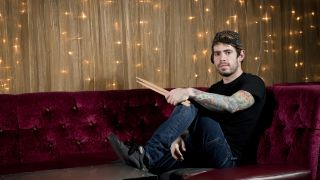 Alex Shelnutt (A Day To Remember)
2016 highlight: Pop punk, metal, rock, pop metal? Whatever you want to call them, A Day To Remember have carved an exciting niche with their distinctive sound. Bringing it all together is drummer Alex Shelnutt, who cites everyone from Travis Barker and Aaron Spears to Mark Castillo of Bury Your Dead as an influence. This melting pot was laid bare on new album Bad Vibrations, and it rocks!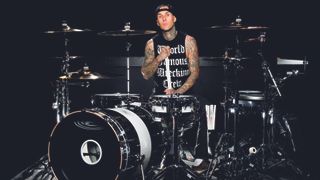 Travis Barker (Blink-182)
2016 highlight: With a new line-up and a renewed energy, Blink released their best music in years with new album California. Not only did it bear all the hallmarks of classic Blink, but it was also another lesson in creativity, taste and blending styles from Travis Barker.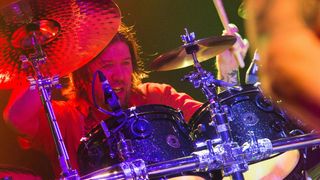 Scott Phillips (Alter Bridge)
2016 highlight: Phillips might be a quiet character away from the drum kit but get him behind it and he unleashes a ferocious, hard-hitting animal. New album The Last Hero is Phillips at his finest, with tracks like opener Show Me A Leader and the driving Poison In Your Veins.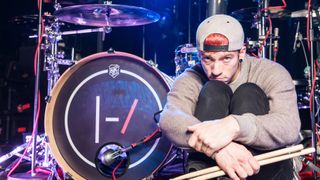 Josh Dun (Twenty One Pilots)
2016 highlight: He might be a relatively new name to the drum world, but the monumental rise of drummer Josh Dun and partner in crime Tyler Joseph - aka Twenty One Pilots - in the last 12 months deserves a high spot in this category. The band's theatrical live show has been snaking its way across the world this year and the band has been amassing legions of fans every step of the way.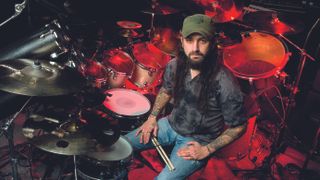 Mike Portnoy (Twisted Sister)
2016 highlight: Mike usually springs up in the best prog category, but this year he's been traversing the globe with US rockers Twisted Sister, jumping in following the tragic death of drummer AJ Pero. Mike is always a safe pair of hands, but he's stepped into the role with all the passion and theatre that the gig deserves. Bravo, Mike!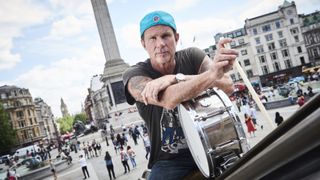 Winner: Chad Smith (Red Hot Chili Peppers)
2016 highlight: It says a lot about the enduring appeal of the Chili Peppers, and the influential drumming style of funk rocker Chad Smith that, even 28 years after first joining the band, they're still delivering the goods. This year, not only did the Chilis release ace new album The Getaway, but they also toured the world, including a bombastic headline slot at Reading & Leeds and a massive UK tour.