New Seymour Duncan Blackouts
Woo and, indeed, hoo! Here's the full official release for the quick route to great metal tone!

Where do you go when you play the most extreme, aggressive, brutal rock and you need to cut through all the instruments in the band? Where do you go when you want the hugest sound you can get out of an electric guitar pickup? Where do you go when you're already on '11?'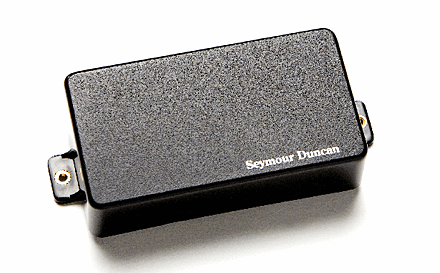 You go to Seymour Duncan's newest rock'n roll weapon, the AHB-2 Blackouts Metal humbucker, the newest addition to the smash hit Blackouts line of 9-volt active guitar pickups. This pickup is a totally updated, redesigned, and re-launched version of the LiveWires Metal humbucker, sporting a new preamp, new voicing, and the ability to switch between output levels. It's perfect for all styles of metal, punk, garage, thrash, drop tunings, and heavy rock.

The Blackouts Metal pickup has a unique dual pin configuration on the underside of the pickup for two modes of output: loud and louder. With the same aggressive tonality in each mode, you now have a choice in output. With the jumper removed, you have a high output bridge humbucker that's still compatible with a standard Blackouts neck pickup or the clean channel on your amp. However, with the jumper in place, you unleash all the raw power, incredible output, and untamed aggression that resides inside the Blackouts Metal preamp.

The pins can also be wired to a mini-switch or push/pull (not included), for on board boost! Paired with Duncan's SFX-04 Twin Tube Mayhem stompbox, Blackouts Metal pickups in high-output mode are so extreme, so evil, and so vicious you might want to check with local law enforcement to make sure they're legal. (OK. Not really. But you get the idea).

Blackouts Metal pickups ship with 25K pots, stereo jack, battery clip, pin jumper, and other mounting hardware. They're epoxy potted and available with either black or white covers. Blackouts Metal pickups are recommended for your guitar's bridge position.

More from Seymour Duncan here...