Martin Announces the Return of the 1 Series
Good news! Here's the official release.

In a response to these challenging economic times, C.F. Martin & Co. is proud to announce the return of the highly popular 1 Series acoustic guitars. Initially introduced in 1993, the 1 Series is an affordable traditional solid wood guitar in the spirit of the Style 15 and Style 17 models that Martin introduced during The Great Depression. Addressing the concerns of consumers across the U.S. and abroad, Martin is making every concerted effort to provide players with an affordable, solid wood bodied guitar, backed by a heritage of over 175 years in skilled building excellence and a Limited Lifetime Warranty.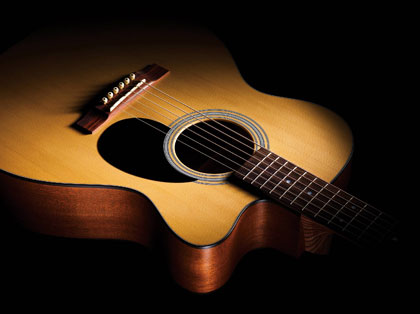 Image (c) Martin Guitars

Constructed from solid tonewoods including a Sitka spruce top, bookmatched Sapele back and sides, as well as an East Indian Rosewood fingerboard and bridge, the 1 Series creates the legendary rich and commanding Martin sound that has defined the acoustic guitar for generations. All four models being introduced feature Martin's modified hybrid scalloped top bracing. Two are purely acoustic guitars: a Dreadnought size D-1 and an Orchestra Model OM-1, and two add to the current selection of acoustic-electric models. The Dreadnought DC-1E and the Orchestra Model OMC-1E are each equipped with a state-of-the-art Fishman sound reinforcement system featuring full volume and tone control and an on-board digital chromatic tuner. Whether you are choosing a purely acoustic or stage-ready acoustic-electric guitar, the new Martin 1 Series models are designed and built to provide the best tone at the lowest price.

The Dreadnought, originally developed and manufactured by Martin Guitar in the early-1900s was first produced in 1931 bearing the Martin name, during hard economic times. The first two legendary models were named the D-1 and D-2 that soon became the now legendary D-18 and D-28. During the depression, Martin would continue to innovate and introduce several new style models, including the all mahogany Style 15 and Style 17 models, which provided an extraordinary value during that period. Those guitars became favourites of blues players in the post-depression era. More than any other acoustic guitar brand, Martin instruments have typically held or dramatically increased in value, and continue to be prized by collectors, players and guitar aficionados around the world.

Visit UK distributors Westside by clicking here