Durban Guerrilla Part 1: Bottom End
Guitarist's Dave Durban is a musician on a mission. He is searching for a sonic grail: the ultimate guitar tone and he'll stop at nothing to get it. During his quest he will encounter all manner of wonders and obstacles: gigs in far flung places, studio sessions, guitar mods, amp tests and sea monsters.

Welcome to the world of a dedicated gearhead, the Durban Guerrilla – and every Tuesday he'll be sharing his candid journal with you. Beginning with a surprising confession…


I've crossed over to the dark side.

I'm playing bass. But I'm not a bassist. I'm supposed to be a guitarist, but I have to admit I'm liking it.

Is that wrong?

After being asked to play in a mate's band I've been working out all this bottom end lark from, um, the ground up. I've been taking advice from my one and only hero of the bass, Guitarist magazine's four-string guru Roger Newell. He has unwittingly confirmed everything I presumed about bass players: they do all have strange habits and collect things.

Playing bass is a new world for me – and there's certainly more to it than I thought. I admit it: I've been a bit disparaging about the role of the bassist in the bands I've been in. As a guitarist I've always thought I'm leading the band as they follow. But of course that's egotistical rubbish – it's the rhythm section that's driving the tank. And now I'm getting a whole new perspective on things.

My bass playing is improving (slowly) but I'm not abandoning guitar. Far from it: it's actually improving my guitar playing. I'd recommend all six-stringers have a taste of bass. After playing bass over simple song structures and learning to fill a different 'pocket' in a band it really does make you see your guitar playing in a different light. And in a strange way I feel more connected to what I'm playing now as a guitarist. I see where I fit into the big picture of a band's sound and how it can be better. I'm less detached.

Now the gear, I've recently purchased a Fender Jazz '60s Classic Reissue, which is just incredible. I immediately set about making it look like it came out of the factory as an US '62 Reissue. So out came the dusty old coffee table books filled with original images of early '60s originals and armed with a drill, a Fender 'F' stamped bridge cover, neck pickup cover and an ebony thumb rest, Guru Newell and myself set about restoring the black beauty to truly classic class.

Here are the results…





Meanwhile, to celebrate my joining of the bass playing fraternity Roger awarded me with a present, which came as a nice surprise. He handed over a set of Rotosound 'Jazz-Bass' strings from the early 1970s completely un-opened.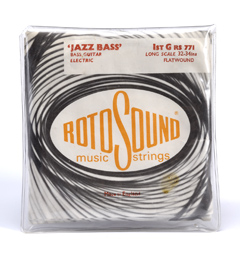 I won't use them, I just couldn't bear to see that cool old packaging go.

So now it's time for gigs, and one of my biggest tests as a newbie bass player is fast approaching. I've got a gig at a local festival this weekend with the band so I hope you can join me next week to find out if it was triumph or disaster. And I'll also be starting my new guitar modification project that I'll be working on over the coming weeks.