Issue 180 - Autumn 2006
Exclusive review: Kaoss returns - the greatest hands-on effects box ever. Technique special: creative feedback and FX. Better bass, guitars and drums. The Big Chill: Spend 48 hours with Coldcut, Mr Scruff and Tom Middleton. Perfect podcasts: access the world's biggest audience - we show you how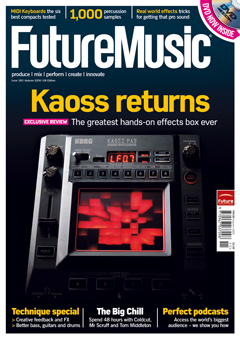 Reviews


Korg Kaoss Pad 3

Exclusive first review of this hands-on effects unit



Audio Damage Reverence

This might be your best soft option if you're after a vintage plate reverb



Novation Remote Zero

This auto-mapping offering is sure to take control



Reason Pianos

Fancy tinkling the ivories? Now here's a good reason...



EXH Flanger Hoax

Another great looking pedal - from the kings of the boutique



Tascam DM-3200

The ultimate studio desk? We find out.



Neumann TLM49

Do the legends of mic design still have what it takes?



Ueberscall Liquid Horn Section

Can virtual horns sound so sweet you want to drink their liquid goodness?



Plugsound Pro

Ultimate Sound Bank deliver a huge library



Plex Rax

Host all your Audio Unit plug-ins in this virtual rack



Motu Ethno

World music sounds at your finger tips



Compact controller keyboard round-up

We tell you which portable controllers you should spend your wedge on



Mini Reviews

Gadgets, gizmos and other stuff you want


Filter


Gibson Digital Guitar

Guitars take the next evolutionary step past USB, a full-blown 6-channel ethernet output



Steinberg Cubase 4

We catch up with the boys at Steinberg to give us the latest on the popular DAW update



Classic Album

N.E.R.D's influential sound gets Classic Album status with In Search Of...



Studiofile

We jet over to Oz to check out Studios 301. Beaches, a private pool. And some top-notch kit.



Five minutes with...

DJ/Producer James Zabiela tells us about the three bits of kit he couldn't live without.





Technique


Rock Production Masterclass

Steve Evans tells us about choosing the right distortion, creative feedback and getting those bass recordings just right



Studio Essentials

With the right programming technique people will think you have a real-life, drooling hairy drummer on your tracks



Effects Tips

A dozen essential tips that every aspiring studio-boffin should memorise.



Perfect podcasting

Another incredible way to get your music heard, or just rant on about anything you want. Karl Foster explains all...




Features


Tunng

From banjos to childrens' toys, Tunng records it all. We were lucky enough to get into their studio as Tunng creates an entire track especially for our DVD



Pretz

Fragile State's finest talks to us about string arrangements with exclusive DVD footage to boot



48 Hours In...

The Big Chill. Come with us as we kick back, relax and take in the friendliest festival in the UK





On the DVD


1,000 Percussion samples From bodhrans to bleeps, we cover all your percussion needs



2 hours of music production video Tunng make a track, Pretz talks strings and Rock Production Masterclass part 3



10 Reader demos Your best tracks of the month






Got your copy of Future Music?

Get a subscription to FM, you'll save money and get issue delivered right to your door.



For the latest subscription offers check outwww.myfavouritemagazines.co.uk