The Fast Guide to Synthesis
Elevate yourself from preset user to patch designer with CM's interactive crash course in the art and science of virtual synthesis. We show you the best tools out there and how to use them to make better sounds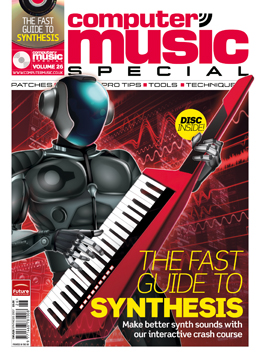 Explore your options
Find out which type of synthesis will get your creative juices flowing. Learn the theory and try the techniques with hands-on guides to subtractive, additive, FM, physical modelling, modular and wavetable synthesis

Sound design
Improve on existing patches or make your own sounds from scratch with our step-by-step tutorials covering the most legendary and popular sounds. All the tools you need are on the included disc

Top 10 synths
We round up the most favoured commercial and free synths

Virtual vs vintage
Vintage hardware synths battle it out with their software clones. Can you hear the difference?

Exclusive patches
On the disc - a collection of 800+ upfront new sounds

Computer Music Special vol.26: The Fast Guide to Synthesis is available from:
UK/Europe: Selected WH Smith, Borders and independent newsagents. ON SALE 12 NOVEMBER
North America: Selected Borders, Barnes & Noble and Chapters outlets. ON SALE 10 DECEMBER

Comments? Questions? Email us at cmspecial@futurenet.co.uk.