Computer Music 131 still on sale – Digital Drums feature / Kore CM Extra Pack on the DVD
Computer Music 131, October issue still on sale! The CM Guide to Digital Percussion, NI Kore CM Extra Pack, 1943 single-hit drum samples and Brookes Brothers Producer Masterclass!
Get the cover image for your desktop here.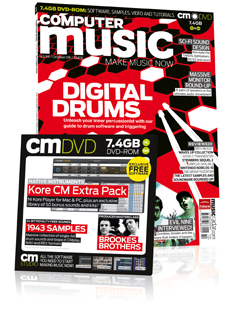 7.4GB OF CONTENT ON THE DUAL-LAYER DVD
• Kore CM Extra Pack
Native Instruments' Kore Player combines the sound creation technology of classic NI products like Absynth, Kontakt and Massive, and our exclusive CM Extra Pack doubles the number of available presets to 100. Pro-quality bass sounds, pads, drum kits and more are all ready and waiting for your productions!


• 1943 drum samples + 586 CM Classics
Our biggest drum library yet crams in almost 2000 single-hit samples and REX loops, including Roland TR-series goodies, acoustic kits and even human beatbox sounds. You'll also find 586 CM Classic track-enhancing FX.


• Producer Masterclass tutorial and video: Brookes Brothers
South London's DnB partners in crime – and real-life brothers – show us how its done as they tear down their latest anthem, Tear You Down. Watch them lay down beats and work on leads and basslines before heading into the final mixdown.




IN THE MAG

• The CM Guide To Digital Percussion
Whether you're an accomplished percussionist or simply a slave to rhythm, our mammoth guide is for you. We'll take you through buying a percussion controller that suits your needs and choosing the right software, and on to a series of practical walkthroughs. You'll learn how to get it all up and running, how to personalise your sound, how to create advanced setups using Battery 3 and Ableton Live, and more!

• The Monitoring Situation
Your monitors are one of the most important elements of your setup – they're the only part that actually makes any sound, after all. Our giant guide offers a round-up of 11 sets of monitors not to mention advice on how to set them up and get the best sound possible.

• Evil Nine
The zombie-obsessed breaks duo have been around for years but have only just released their second album. Time for a CM interview then, where we talk breaks, bass, software, remixes and John Carpenter soundtracks.

• Sounds of Sci-Fi
Recreate the truly distinctive sounds of the TARDIS, Star Wars lightsabres, Daleks, R2-D2 and more with our far-out guide!

• Reviewed!
reFX Nexus2 • Waves JJP Collection • Eiosis E2Transienter • Steinberg Sequel 2 • LinPlug SaxLab2 • AQ Interactive Korg DS-10 • D16 Group Fazortan • Acustica Audio NAT3 • StudioLogic Numa • Blue Cat Audio Protector • …and more

Plus!
• £808 of Roland digital percussion gear up for grabs!
• Project Management: Get a handle on the business side of being a music producer
• Guitar Lab: Wield modulation processors to great effect
• Synth Essentials: Recreating reed tones with Scot Solida
• Off The Dial: rachMiel reveals the simple beauty of modal scales
• The Easy Guide: The musical theory behind key changes
• The Burning Question: What's involved in making hardware?
• And much more!



You can order this issue (as well as recent back issues) by calling 0870 837 4773 in the UK, +44 1858 438795 everywhere else, or emailing future@subscription.co.uk.

Subscribe to Computer Music now and get 13 issues for the price of 10 (UK only) at the following address: