Computer Music 126 – The CM Guide to Techno and KeyToSound Dynamic EQ on the disc
Computer Music 126, June issue on sale now. KeyToSound Dynamic EQ (worth £49.95) and 2640 techno samples on the disc, Cylob interview, the CM Guide to Techno, and much more!
Get the cover image for your desktop here.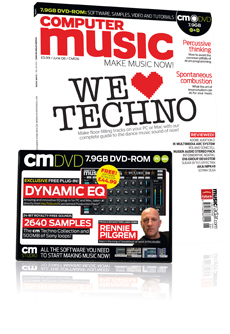 7.9GB OF CONTENT ON THE DUAL-LAYER DVD
• KeyToSound Dynamic EQ
The full version of KeyToSound's awesome Dynamic EQ plug-in for PC and Mac is yours for free with CM126! Worth £49.95, we reviewed the plug-in as part of KeyToSound's Production Pack in CM123, awarding the bundle a whopping 9/10 and noting that Dynamic EQ is "capable of delivering some amazing results". Offering compression-style control of equalisation, this is an innovative, flexible and, above all, first-class plug-in that you can't afford to miss out on!

• 418 Sony Creative Software samples and 2222 CM Techno Collection samples!
Sony Creative Software don't just turn out super software like Sound Forge and ACID – they have a comprehensive range of similarly super samples too, and they've plundered them to bring you a collection of 418 loops. And to help you on your way after reading our giant techno cover feature, the 2222-sample CM Techno Collection is precisely what you need, with its multitude of basses, deep drums, perky percussion and, er, synthetic synths.

• Producer Masterclass tutorial and video: Rennie Pilgrem
The World Snooker Championship might be over and done with, but our latest Producer Masterclass subject, Rennie Pilgrem, has cued up more big breaks during his career than any of this year's baize-bothering contestants ever will. Watch the exclusive video and read the feature to see him building beats, recording electric bass parts, synthesizing leads, and more to create a full track in his studio.

IN THE MAG
• The CM Guide to Techno
There was a time when you couldn't even begin to think about putting together a techno cut without a Roland TR-909 by your side, but guess what? These days all you need is your creativity, a computer, and our massive walkthrough guide to get you on your way. Loops are edited, layered and 'grooved' to perfection, synths expertly sprinkled, and the whole lot arranged and mixed to create a complete track before your very eyes.

• Music by Accident
Improvising is a great way to come up with fresh material or break free of the dreaded writer's block; however, it's not purely the preserver of free jazz addicts, nor only for those who play a 'real' instrument, as our tutorial on unlocking your ability to ad-lib demonstrates. Learn to improvise with MIDI instruments, wig out with effects, and much more.

• Cylob
This issue's CM interview subject has not only crafted tons of releases for labels such as Rephlex, but perhaps more intriguingly for computer musicians, he is also the creator of the very software that he uses to make his tracks. We head on over to Cylob's studio to get the lowdown on his SuperCollider-powered Cylob Music System, not to mention marvel at his DJing setup comprising of a MacBook, Monome and iPod Touch.

• The Truth About Drums
Let's face it: if your drums aren't kicking, then your tracks aren't going to sound too hot as a whole. We cut through the myriad myths surrounding drum production to show you how to craft convincing hip-hop loops, combine electro loops, make 'real' acoustic drum patterns using samples, use almost any snare sound to do the job, and more!


• Reviewed!
Adobe Audition 3 • IK Multimedia ARC System • Roland SonicCell • Nugen Audio Stereo Pack • intermorphic noatikl • d16 Group Devastor • Sugar Bytes Effectrix • Akai MPK49 • Schwa Olga …and more

Plus!
• Full Pro Tools and M-Audio setups to be won, worth a total of £892GBP
• Studio Time: Are studios worth the bother these days? A CM reader finds out…
• The truth about drums: How to get a great drum production
• Guitar Lab: Preparing for a hassle-free recording session
• Synth Essentials: Gary Numan's synth sound recreated in all its glory
• Off The Dial: rachMiel makes an about turn, and this time rejects genres entirely
• The Easy Guide: A look at fourths continues our series on intervals
• The Burning Question: Why is loud music perceived to be 'better'?
• And much more!



You can order this issue (as well as recent back issues) by calling 0870 837 4773 in the UK, +44 1858 438795 everywhere else, or emailing future@subscription.co.uk.

Subscribe to Computer Music now and get 3 free issues (UK only) at the following address: