Computer Music 118 - Make devastating DnB, house, trance and hip-hop basslines!
Computer Music 118, October issue on sale now. Giant synth bass tutorial, Dance eJay 6 and 2032 samples on the DVD, Kosheen Producer Masterclass video, Venetian Snares interview, and much more!
Get the cover image for your desktop here.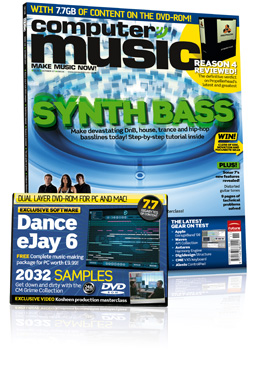 7.7GB OF CONTENT ON THE DUAL-LAYER DVD
• Dance eJay 6!
The full version of this famously easy-to-use dance music creation program will have you crafting great-sounding dance tracks in no time at all! It's worth £9.99GBP, but you can get it free with this month's CM.

• 2032 royalty-free samples in the CM Grime Collection!
Bless your tracks with the street-savvy sound of the UK's underground urban scene - we're talkin' 'bout grime, of course. You'll find bass, beats, synths, and all the instrumentation you need to create your own prime cuts.

• Producer Masterclass video: Kosheen
Our exclusive video shows Kosheen's production wizards Decoder and Substance at work in the studio, taking apart the title track to their new album Damage to reveal all the feats of engineering and programming that go into achieving their chart-battering dance-pop sound.

IN THE MAG
• Synth bass
No matter which genre you prefer, a weak bottom end is always frowned upon. Our massive tutorial shows you how to synthesize rock-solid bass in a variety of styles - DnB, trance, house, pop and hip-hop - and reveals the fundamental secrets to getting a strong sound. We've got all your basses covered!

• Reason 4 reviewed!
The hottest release of the year gets a thorough workout in our definitive review. Find out exactly how well new features like the Thor synth, ReGroove Mixer, and RPG-8 arpeggiator perform, and - most importantly - whether this long-awaited new version of Propellerhead's legendary soft studio lives up to the hype.

• Venetian Snares interview
Using trackers to stitch together the sounds of breakcore, IDM and cinematic music into a wild patchwork of nonstandard time signatures would spell disaster in the hands of a lesser talent, but Aaron Funk has ascended to electronica divinity by doing just that. In this long-awaited interview, he reveals some of the methods behind his madness, not to mention the gear he uses.

• The CM Guide to Grime
Grime is bubbling under the surface of the mainstream right now, yet remains at heart an underground form of urban music. Read our feature tutorial for the lowdown on its history, exclusive advice from A-list producers Danny C and Swindle, step-by-step tutorials on creating the staple sounds of grime, and even a little bit of grime philosophy.

• Guitar lab: Distortion, Part 1
There are so many options out there for distorting your guitar sound, but which will actually give you the sound you're after? In the first of a two-part series we cover the fundamentals of getting a good distorted tone, and show you how to create five different classic distorted sounds.

• Reviewed!

Propellerhead Reason 4 • Apple GarageBand '08 • Waves API Collection • Digidesign Structure • Antares Harmony Engine • CME VX5 • Humanoid Sound Systems Scanned Synth Pro • Alesis ControlPad • and more!


Plus!
• Win £1256GBP of Novation, Focusrite and KRK gear!
• Record a band with only two mics
• Synth Essentials: Noise as a modulation source
• Off The Dial: Get lost in music with rachMiel
• The Easy Guide: Chord inversions made easy
• Give It Away Now!: Your guide to the best free software
• The Burning Question: How do humanising plug-ins work?
• And much more!



You can order this issue (as well as recent back issues) by calling 0870 837 4773 in the UK, +44 1858 438795 everywhere else, or emailing future@subscription.co.uk.

Subscribe to Computer Music now and receive 3 free issues (UK only) at