Computer Music 117 on sale - Make a movie soundtrack on your PC or Mac!
Computer Music 117, September issue on sale now. Massive movie soundtrack tutorial, Scanned Synth CM and 2313 samples on the DVD, Producer Masterclass video with The DJ Producer, Cicada interview, and much more!
Get the cover image for your desktop here.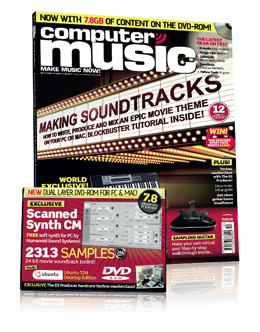 7.8GB OF CONTENT ON THE DUAL-LAYER DVD
• Scanned Synth CM!
Delve into the esoteric world of scanned synthesis with this exclusive VSTi for PC. If traditional synthesis methods aren't quite cutting it, and you crave an entirely different sound source, then look no further!

• 2313 royalty-free movie soundtrack samples on the Dual-Layer DVD!
We've pulled out all the stops to provide an epic selection of samples that will aid you in your quest to pen the perfect score. From film noir to sci-fi, through to horror and action, you'll find it all right here with orchestral clips, ethereal pads, FX, construction kits, synths, acoustic sounds, and loads more.

• Producer Masterclass video: The DJ Producer
The DJ Producer is a bit of a legend in hardcore techno circles, and here he is, showing off his production skills right before your very eyes in over half an hour of video footage. See exactly how Something Stronger (Fine Day Mix) was put together using Reason, Live and Cubase, and follow our companion tutorial in the magazine.

IN THE MAG
• Making soundtracks
If you've ever wanted to write a film score or you simply want to inject some 'cinematism' into your tunes, then turn to our 12-page in-depth feature! Find out what software you need for realistic virtual orchestration, and discover the composing do's and don'ts of creating a convincing epic soundtrack in the digital domain.

• Cicada interview
Their debut album exploded onto the scene last year, with a slew of hit singles in tow. What's behind Cicada's successful retro-meets-electronica sound? Founder Aaron Gilbert talks us through his early musical days, Cicada's mixing practices, how they take their sound onto the stage, and more.

• Guitar lab: Clean guitar tones
We're winding down the distortion this month, in search of the perfect clean tone. There's more to it than many guitarists realise, yet all the tricks of the trade are possible in software, as our tutorial demonstrates.

• Pursuing the penguin
Linux is growing in popularity as an audio platform thanks to great music software such as Ardour and Rosegarden. If you're itching to take the plunge, but not sure how to get it all going, our easy-to-follow guide will demystify the process of setting up Linux on your computer for audio.

• Six-string sampling
Got a guitar? Can't play it? Not to worry – you can sample the heck out of it and create a virtual version instead! Our walkthrough tutorial shows you how to mic up and record your axe to produce your own custom sample set to rival commercial equivalents.

• Reviewed!

Novation ReMOTE 49SL COMPACT • M-Audio Torq Xponent • Image-Line Morphine • Yellow Tools Origami • Sonalksis Creative Elements • Cakewalk Studio Instruments • Fervent Software Studio To Go! v2.0 • Universal Audio LA-3A • Wallander Instruments WIVI Instruments • Schaack Audio Technologies Quad

Plus!
• Win a £1099 UAD-Xpander Xpert pack!
• Scrapyard Studio, part 2: Old Macs pressed back into service
• Synth Essentials: Sub oscillation
• Off The Dial: How to craft the perfect song ending
• The Easy Guide: Brass notation, part 2
• Give It Away Now!: We round up the best free software
• The Burning Question: How do I prepare my CD for duplication?
• And much more!



You can order this issue (as well as recent back issues) by calling 0870 837 4773 in the UK, +44 1858 438795 everywhere else, or emailing future@subscription.co.uk.

Subscribe to Computer Music now and receive 3 free issues (UK only) at